It might be a combination of well-concerted work by the PR-Dept. in Vienna's MoD and rosen actual public awareness for security in the air since Sept. 11th. A fact is anyway that - unlike in other European AD-systems - high-priority alpha's by the Austrian AF were rare and remained publicly unmentioned or ignored before Sept. 11th - but also before the Austrian RFP for new fighters finally went out with Oct. 10th.
Draken's waiting in ready-7 status on the flightline of three airbases
Foto: Bundesheer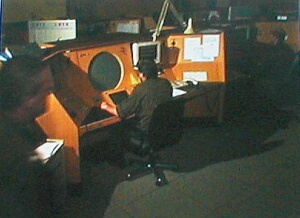 The "Einsatzzentrale St.Johann". Austria's safe and hidden "doomsday resort" under several thousand feets of alpine granite.
Foto: Bundesheer
Fighter controller verctors Draken's to unknown radar contacts.
Foto: Bundesheer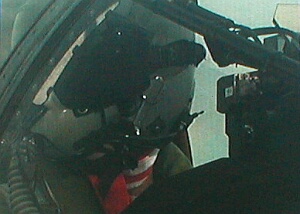 Draken's and Saab 105 are not fitted with night-vision-goggles or "nightsun" lights. They also have no or very old on-board radar-systems and therefore must be tracked with the fighter controller very carefully and precise towards intercept targets during nighttime.
Foto: Bundesheer
Since September 13th, the - outdated - remaining Draken-fleet is on higher alert, much like it is the case in other European countries. At least 4 Draken's are held ready in 7 minute-alert (during daylight). Operational bases are changing between Graz Thalerhof (home of the 2nd Sq. of the air surveillance wing), Zeltweg (home of the 1st Sq. of the air surveillance wing), but also Linz-Hörsching (normally home of the 3rd Aviation Regiment with the Saab 105's) is operating as an alternate airbase for 2 armed Draken's and one spare-aircraft.
And this steps soon proved not unbased. Since then, at least 4 live intercepts where made public by the MoD's PR-authorities (around Mag. Kullnig) in a way (and speed) never seen before. On September 25th a Boeing 737 by "Air Berlin" on the way from Belgrade to Berlin was ordered to be intercepted as several attempts by "Austro-Control", Austria's civil air-traffic authority, to get radio contact failed. Alert was declared on 10:16 CET and the Drakens were launched from Linz-Hörsching and intercepted the B737 at 10:36 over northern Lower-Austria, shortly before it left Austrian airspace. The airliner suddenly responded calls when intercepted.
As this incident showed communication weaknesses in decision-levels by producing 20mins. of uninterrupted flying-time for the airliner, the authorities for Austria's Luftraumüberwachungssystem (LRÜ) decided to speed up the process within the linked levels. Now it is in the command of the senior military ground control officers, working in the Einsatzzentrale (EZ or Combat Center) in a highly secret deep bunker-system near St. Johann (planned as "doomsday resort" for Austria's highest political levels in the 70s/80s and internally called "the mountain"), to launch an alpha. The ministerial levels are not need to be contacted extra - for the moment. Changed also was the priority-line beyond the national borderlines in which contacts are closer watched - it was pushed a little further apart.
On October 15th the new regime proved as a benefit when a MD-88 from the Turkish charter line "Onur" was intercepted as prior not declared, on the way from Edinburgh to Bodrum/Turkey when several attempts to get radio contact failed. With the fortune of having two Draken's airborne for a training sortie the Fighters got supersonic, intercepting the MD-88 only two minutes after alarmed.
Air-traffic-controllers are sensitised to pay attention on small aberrations of the flight plan as also failed radio contacts
Foto: Bundesheer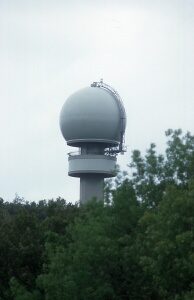 "Selenia RAT-31" on the "Steinmandl hill" some 40 km north of Vienna.
Foto: Martin Rosenkranz
Mobile Radar Station 2, one of two "Selenia MRCS-403" type radars.
Foto: Martin Rosenkranz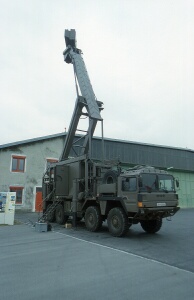 One of six low-level-radars type "Thomson RAC 3D" usually working in groups of three.
Foto: Martin Rosenkranz
On October 29th a Boeing 737 by Yugoslav national carrier JAT was on the way from Paris CDG to Belgrade and was intercepted when again Austro Control failed to get radio response by the airliner. Launching from Graz-Thalerhof, two Draken's intercepted the airliner within minutes at 33.000 ft, identified and escorted it to the border.
Christoph Baubin, General-Director of "Austro-Control" described how it works: "Our air-traffic controllers are sensitised to pay attention on small aberrations of the flight plan as also failed radio contacts. Because air-traffic control was as good as it gets even before September 11th, the only thing we need to adapt was a intensification of our alert rules." But at the last, the only thing "Austro-Control" can do is to inform Austria's military air-surveillance via it's attached military coordinator "MCC".
The only incident made public in details before Sept. 11th - nevertheless in the forefront of the unpopular acquisition of a Draken-replacement - was on June 7th 2001, when a civil Boeing 737 airliner, from an Italian company but with Irish registration, was intercepted over the very eastern province of Burgenland by two Drakens. It was on its way to a Polish military airbase from an military airbase in Northern Italy and strayed into Austrian airspace guided by Hungarian controllers. To reach the contact close to the Hungarian border, the Drakens had to go supersonic, but as the sonic boom is something highly unfamiliar to the Austrian public it produced a lot of calls to civilian authorities. It is obvious that this and the current publicity - more than unusual in comparison with the former procedure of recent years - is highly supporting the governments commitment to replace the Draken's with new fighters from 2003 on.
In the same recent period, the Austrian MoD also published in unknown detail, that during the last 5 years, Austria's Drakens & Saab 105s had made 67 alpha-intercepts and have identified and documented unclear aircraft's from NATO-member states, Yugoslavia, Slovakia, Russia and Saudi Arabia, which were violating Austria's neutral airspace in providing unclear or incomplete flight-plans or diverting in an unarranged way. In comparison it was unveiled that 13.233 military overflights were allowed over Austria in 2000 and 90.514 since 1995 and from these 1.152 were quoted as unclear or irregular and in the end led to the 67 alphas. Under the later were "curiosities" like transports with falsificated national insignias and incorrect registrations or intruders flying undeclared in the "shadow" of an allowed transfer. New - but not surprising - is, that today also civilian airliners are checked when diverting or not responding.
The last serious incident involving combat-jets was reported back during "Allied Force" in 1999, when two USAFE F-16s loitered over Italy until a patrol of Drakens left back for Zeltweg and then tried to cross the narrow west of Austria without diplomatic clearance. Not recognized by the US pilots or controllers was another pair of Drakens vectored into the area in lower heights by a capable Austrian RIO. The two US jets were intercepted and documented perfectly in classical manner and the diplomatic protest followed.
Confronted with the "new publicity" on security in the air, the MoD says it responds to a higher security-sensibility in the population and further only points towards similar incidents in neighbouring countries where Oct. 27th saw Starfighters of the Italian AF intercepting an unknown Libyan plane which probably wasn't registered properly. Two more F-104S fighter jets accompanied the transport plane of the Antonow-26 towards North Africa. One day before, a Boeing 737 had lost radar contact on its flight from Malaga to London and a French Mirage 2000 was launched to clarify the situation.
The status of the civil radar sites remains unknown. There operation was very costly for the "Austro Control", because they working only with secondary radar and transponder signals they do not longer need such large active antennas. There was at least one offer made to the MoD to buy it, but (as usually in Austria) the running costs for this radars are not affordable for the MoD. This civil antenna is at the "Buschberg" hill about 1km away from the military "Steinmandl" site.
Foto: Martin Rosenkranz
The Austrian air-surveillance system "Goldhaube" (folkloristic golden-hat) consists of three fixed military-primary-radar-sites (type "Selenia RAT-31") on mountain peaks (each along side fixed civil radar's partially in use), with the highest at the 2.140m high "great Speikkogel" in the southern part of Austria, two mobile MRS units (type "Selenia MRCS-403"), and six deployable TER low-level-radars (type "Thomson RAC 3D") for better coverage in certain mountainous areas. The system is also in permanent contact with nearly all civil airport radars on Austria's international airports. Displayed for the first time publicly in Vienna's downtown at national-day Oct. 26th, the "Goldhaube" was reported to JDW as "looking" around for about 300km active and up to 450km passive to corresponding transponder contacts. The active covered are reaches from 100kms east of Budapest, until the czech-polish border in the north, to the swiss-french border (higher levels) and Frankfurt in the west and in southerly direction that far as Split / Croatia and Sarajewo / Bosnia. Also reported to JDW were expected problems with the system interferring new cellular operators in neighboring countries in the upcoming years.
Regarding the active element, one problem remains for sure. As - due to their age - there are only half of the Drakens available at one time and with lesser pilots than aircrafts in inventory, this shows a substantial and now well-respected effort by the Austrian Luftstreitkräfte. But it is to foresee that the current level of response cannot be sustained over a period exceeding more than some months.